Home » Landing Zone Lectures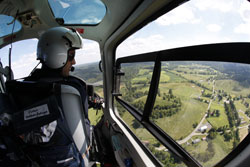 Safety is the top priority at MedFlight, and our teams rely heavily on Fire and EMS personnel on the scene to set up and secure a safe landing zone.
MedFlight offers free landing zone safety training and will offer continuing education credit as well. This training includes both a classroom lecture and a live helicopter landing for skillset practice.
To request this training fill out our "Landing Zone Lecture" form and a MedFlight partner will be in contact with you to continue to the scheduling process.
Landing Zone Lecture Request Print MedFlight's LZ Guidelines

SET UP A LANDING ZONE:
Ensure the LZ is at least 100 x 100 ft in diamaeter.
Ensure the LZ is on level ground.
LZ surface can be a secured roadway, grassy field, parking lot, hard packed snow, etc.
Avoid LZ locations with ice, loose gravel or dirt.
HOW IS THE LZ MARKED?
Mark LZ corners with weighted cones that are lying down, pointed inward.
LED lights and beacons are suitable for nighttime LZs.
Mark overhead wires with vehicles or apparatus lighting.
Avoid using flares on dry soil/field conditions.
IDENTIFY NEARBY OBSTRUCTIONS:
NEAR THE LZ: Identify trees, signs and light poles on perimeter and ALL wires and their direction.
NEARBY LZ: Identify buildings, poles, ALL wires and their direction.
FAR FROM LZ: Identify watertowers, radio/cell towers, high tension lines.
Obstructions should be identified by their direction from the LZ (North, East, Southwest, etc.)
SAFETY FIRST!
Ensure two-way radio communication for LZ briefing.
LZ Command should ensure first responds and onlookers remain at a clear distance during landings and takeoff.
Secure loose items that can be affected by rotor wash.
Do not approach the aircraft until direct by flight crew.
Bright white lights are not NVG-friendly.