Home » Press Releases
FOR IMMEDIATE RELEASE
January 30, 2019
For information, contact:
Todd Bailey, MBC, CMTE, Vice President of Development
MedFlight
tbailey@medflight.com
(614) 580-9081
COLUMBUS, Ohio – The following is in regard to media questions posed to MedFlight related to the medical helicopter accident on Tuesday, January 29th, 2019 in Vinton County, Ohio.
According to Tom Allenstein, MedFlight President and CEO, "Yesterday, a tragic accident occurred involving our air medical colleagues at Survival Flight. Our hearts and prayers go out to the team members who lost their lives as well as their families and friends. As it relates to MedFlight, we received a request to transport a patient from the Holzer-Meigs Emergency Room in Pomeroy at 6:00 a.m. on Tuesday, January 29th. The assigned team's pilot, working with the Operational Control Center at Metro Aviation, Inc., our aviation operator, determined that weather conditions at the time of the request were below our program's weather minimums. Each helicopter ambulance service has their own protocols for making decisions about whether it is appropriate to fly under given conditions. The results of the NTSB investigation is pending as it relates to the cause of this accident."
Regarding this incident, please do not contact MedFlight's Communications Center.
MedFlight is a not-for-profit, CAMTS-accredited air & ground critical care transportation company formed in 1995. Headquartered in Columbus, Ohio, MedFlight has 9 Helicopter bases and 3 Mobile ICU bases statewide.
FOR IMMEDIATE RELEASE
COLUMBUS, Ohio – At approximately 6:45pm on Sunday 2/4/17, while enroute to a referring facility to begin a patient transport, MedFlight's Columbus-based Mobile ICU team was involved in an accident with injuries to the medical crew. First responders transported the team to the local hospital for assessment.
We will keep you updated as details are available. Please do not call our emergency dispatch number at this time.
We thank you for your support and patience as we assist our team during this incident.
UPDATE 02/04/18 @ 2308
We have confirmed that one of the crew involved in the accident has been transported with serious injuries to a Columbus hospital for treatment. Remaining crew members sustained minor injuries and are being evaluated at this time.
MedFlight Receives Top Industry Award as Program of the Year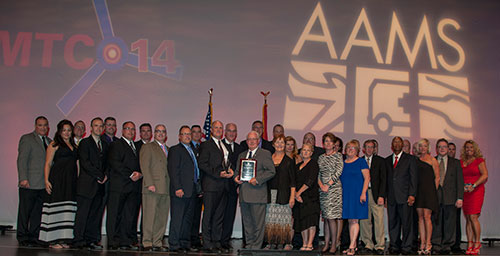 COLUMBUS, Ohio – MedFlight, the non-profit critical care transportation company owned by The Ohio State University Wexner Medical Center and OhioHealth, was awarded the prestigious award of Program of the Year last night in Nashville, Tennessee at the annual Air Medical Transportation Conference by AAMS (Association of Air Medical Services).
The Program of the Year Award recognizes an emergency medical program that has demonstrated a superior level of patient care, management prowess, quality leadership through visionary and innovative approaches, customer and community service, safety practice and commitment to the medical transport community
Throughout MedFlight's history it has demonstrated patients-first values and leadership by providing medical helicopter and mobile intensive care unit (MICU) patient transportation solutions. MedFlight was recognized for its exemplary safety standards by receiving the Vision Zero Safety Award in 2012 (the highest industry safety award) and continues a lasting contribution to the industry today.
MedFlight demonstrated its commitment to outreach education, through lectures and the use of our mobile simulation RV by providing thousands of free CEUs to members of the EMS communities and hospitals throughout Ohio. Firehouse Subs recognized MedFlight's effort by granting the largest grant to date so MedFlight could purchase a pediatric simulator to further educate providers in Ohio.
MedFlight's social media program is successfully used to provide education, industry related information, and safety training. Their Facebook page is one of the largest industry sites with over 13,000 fans in 10 countries. Most recently, MedFlight started MedFlight Radio, which provides podcasts on relevant topics and provides CEU education. To date MedFlight Radio has over 8400 downloads in 41 countries.
MedFlight saw the need for collaborative research in the industry and founded the Center for Medical Transport Research to fill this void. This provided an opportunity for people to share their own story of safety with over 30 digital safety stories published.
MedFlight and our partners have also contributed nationally and internationally through service to disasters such as Hurricanes Katrina and Sandy.
They recently helped coordinate and participate in the fundraising for "The Great American Safety Drive" that raised over $100K for the MedEvac Foundation.
This award was made possible by its employees, aviation personnel from their vendor Metro Aviation, sponsoring hospitals, and other stakeholders that have worked for decades to serve and improve the lives of others. MedFlight is honored and humbled to receive this prestigious award.
For more information go to www.medflight.com
-END-